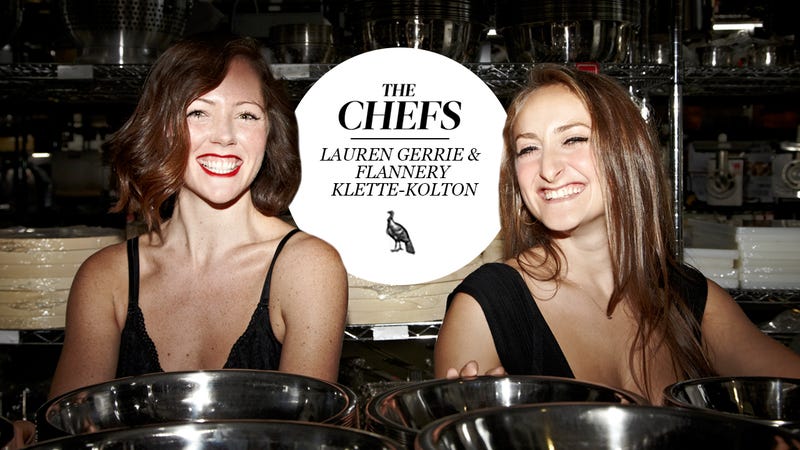 How do two chefs maintain a friendship while also running a successful business? Below, #Nevertamed chefs (and Chopped winners) Lauren Gerrie and Flannery Klette-Kolton share some of the secret sauce that's helped them keep bigLITTLE Get Together, their sought-after private chef service, thriving for the past nine years — along with the recipe for an actual, Wild Turkey-inspired secret sauce for you to whip out the next time you need to wow your own friends.

This series, sponsored by Wild Turkey, will profile the #Nevertamed people of the world: artists, adventurers, and entrepreneurs with an unrelenting passion for and commitment to what they do who never cut corners or sacrifice quality or vision. It's this #Nevertamed spirit — fueled by tradition — that goes into every barrel of Wild Turkey.
For Gerrie and Klette-Kolton, their friendship came first, and the business followed shortly thereafter. That's still true, even as they've built their success. "Our company is always changing and evolving, and so are we," Gerrie says, "But the fact that we're friends makes our business stronger. We've been through extreme highs and extreme lows together. After working together for nine years, we've learned from each other's strengths, and we rely on each other to be better people and businesswomen."

"We are straight up life companions," Gerrie says. "We balance each other on every level. We're pretty similar, but I think if you were to ask our friends they would say that Flannery is the more sensitive, giving, and emotional one. I tend to be far more cut-and dry-and straightforward.

When it comes to dividing the work, "Flannery is the numbers gal and I handle more of the visual aspects. We both deal with clients and take the lead for different jobs and events. But we have to be flexible."
"We're not doing this to beat anyone," Klette-Kolton points out. "We're not trying to prove we're better than anyone else. And we're not competing with each other either. You can't put that into the food. We're doing this for us; we're competing with ourselves, and the point is to produce the best food we can produce."
Speaking of that food: below, Gerrie and Klette-Kolton took up the challenge of creating a #Nevertamed dish, inspired by Wild Turkey. Below is what they came up with. (It will kind of blow your mind.)

This post is a sponsored collaboration between Wild Turkey and Studio@Gawker.
Photograph by @matthuplacek, #matthuplacek, www.matthuplacek.com