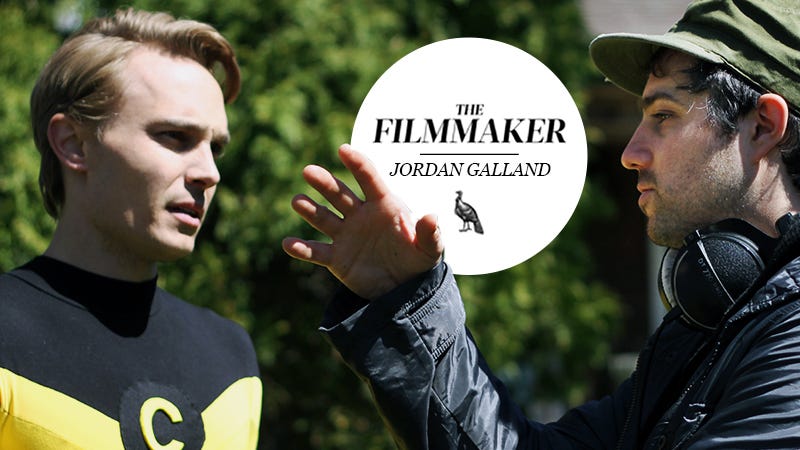 Filmmaker Jordan Galland has written, produced and directed three award-winning, audience-pleasing, feature-length films on tiny budgets, so he knows knows a few things about making projects go — and about staying true to your instincts, despite the challenges.

This series, sponsored by Wild Turkey, will profile the #Nevertamed people of the world: artists, adventurers, and entrepreneurs with an unrelenting passion for and commitment to what they do who never cut corners or sacrifice quality or vision. It's this #Nevertamed spirit — fueled by tradition — that goes into every barrel of Wild Turkey.
Here, in his own words, Galland shares the principles that have helped him navigate the complexities of the film-making process, taking on the challenges as they come while always staying keenly aware that, in the end, every choice he makes will show up onscreen.

1. Roll with the punches, but don't lose sight of what matters.

"So many things can change on a film set — times, cast, crew, locations — and you have to be flexible. But the story has to be locked in before you do the movie, because that's the core of your project. With Rosencrantz and Guildenstern are Undead, I wanted to shoot in a zoo. I pictured the animals going crazy with the vampires and there was a lot of dialogue relating to that in the script. Turns out, we couldn't get the permits to film in a zoo. The location became a site near a statue of Alice in Wonderland, and the dialogue changed to relate to that. Even with those changes, I made sure the core of the scene was the same. That's what mattered."
2. Try everything on your own first.
"My approach has always been to test out my interests by myself — I've done that with everything I've tackled, from my music, to my artwork, to the movies I make. When I was 13, my favorite song was Ziggy Stardust, so I taught myself how to play it. By the time I had it down, I knew 12 chords and knew the basic structure of a pop song, most of which have four or five chords. It was the same with film — while working on Smile For the Camera [Galland's first short film] I borrowed a friend's expensive, cutting-edge video camera to shoot the movie. It was a cool experience to test it out, and it led me further down a path of education about film-making."
3. Think smart, but simple.

"One day the shoot of Alter Egos went from a morning set-up in Long Island to an afternoon set-up in Manhattan — it took five hours to move all the equipment and people even though it was only supposed to be a 90-minute drive. It was awful. With Ava's Possessions, I'd learned my lesson, and we filmed in a warehouse in Bushwick where we were able to build walls, paint, hang wallpaper, set our light sources, and create an entire world in one spot. This central location also had room for the production office, so it also served as a mini studio headquarters. Simplifying the project like that made everything run as smoothly as possible."
4. Don't go it alone.

"In the end, a movie has to be your own vision, but you can't make that that vision come to life without helping the people you're working with — people who in a lot of cases are more skilled and talented than you are — to do their own jobs the best way they can."
5. Trust your voice.

"The tone of my work is incredibly important to me. If there are too many jokes, or the wrong kind, it can take an audience out of the movie. With Alter Egos, everyone wanted me to add lines about how superheroes use the bathroom in those costumes, but it never felt natural. I want the audience to care about the characters, and if they're always making fun of themselves, you lose that because they don't seem real."

"I think we got that tone just right in Ava's Possessions. Ava's recovering from an exorcism and she has no memory of the fact that she's recently been possessed, so seeing her friends and family is sad, but also awkward. There's no version of that situation that isn't kind of funny too. At the SXSW screenings, I heard the audience laugh early on, and it was the best sound because the laugh wasn't a reaction to something goofy, it was them relating to Ava — they felt it. I care where the laugh comes from — you can hear it when you've hit on something real."
Making a movie is no joke, and even when you know exactly what you're setting out to do, staying on the path you've set out for yourself is easier said than done, especially when reality starts to get in the way. While the trials of film-making may be unique (and uniquely complex), the principles Galland outlines here be applied to just about any pursuit, whether it's starting a business, heading off into the unknown, or creating the perfect bourbon. Because in order to stay #Nevertamed, the rules you play by have to be your own.

Melissa Walker writes for magazines including Glamour, Teen Vogue, Fitness, Family Circle, and Marie Claire. She is the author of eight young adult novels, the latest of which is Dust to Dust (HarperCollins).
This post is a sponsored collaboration between Wild Turkey and Studio@Gawker.