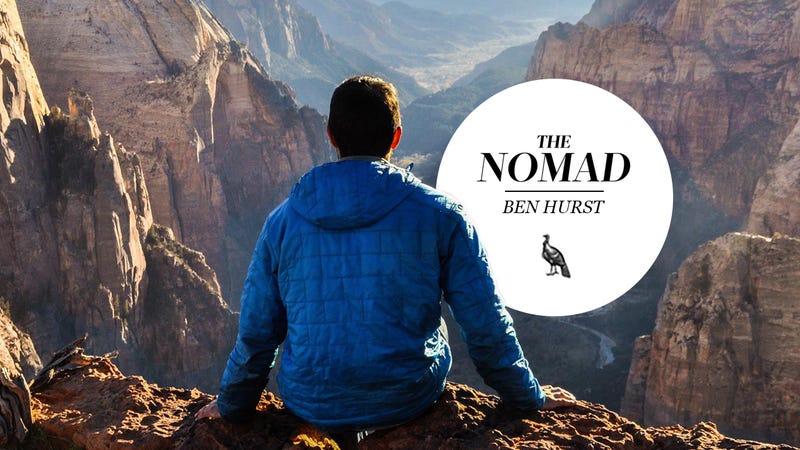 #Nevertamed vagabond Ben Hurst quit his job as a US Air Force physicist to travel around in a VW van, taking pictures along the way. Here, check out some of the most stunning photos from his travels — along with key strategies for getting the picture right when you decide to hit the road yourself. Warning: clicking will induce serious jealousy.

This series, sponsored by Wild Turkey, will profile the #Nevertamed people of the world: artists, adventurers, and entrepreneurs with an unrelenting passion for and commitment to what they do who never cut corners or sacrifice quality or vision. It's this #Nevertamed spirit — fueled by tradition — that goes into every barrel of Wild Turkey.
While camping with in Jalama Beach, Hurst and a friend noticed an Air Force radar site in the distance. Since he still had military base access, he was able to drive up to it, climb on top of his luggage rack, and get this picture. (Note: That white stuff? Those are clouds.)

After a suggestion from a local in Guadalajara, Hurst and a friend followed a stone aqueduct through a forest of mango trees to find this hidden waterfall and take this picture. (They also ran into a bunch of mango farmers who insisted on cooking them lunch.)
A puppy improves just about any travel photo, so it's good to have one on hand if possible. (Here, three-month-old Lorenzo learns to swim in the Gulf of Mexico.)

Because the Yucatan Peninsula is situated on a bed of porous limestone, rainwater has seeped through to create underground river systems, which are only accessible from cavelike openings called Cenotes. Hurst discovered this one — and took this photo — after suffering through a punishingly hot week in the Yucatan with no AC.

At The Wave, located in the Coyote Buttes North area of the Arizona Strip, on the Utah/Arizona border, only ten visitors are allowed in per day. The only way to get a permit? Show up and hope you're picked in the lottery. Hurst faced stiff competition of about 50 people the day he made the journey — and got lucky enough to get this picture.
It's not always easy, but it's worth it. Below, check out some of Hurst's most stunning and hardest-earned shots. (And be sure to check out his Instagram, for the full #Nevertamed experience.)

This post is a sponsored collaboration between Wild Turkey and Studio@Gawker.