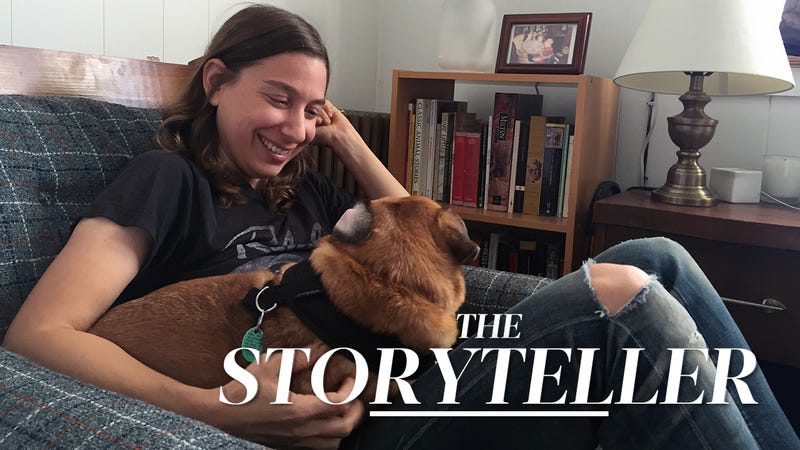 Ariel Schrag didn't have your typical high-school experience — far from it. Instead of deflecting and absorbing the emotional upheavals that come with being a teenager, she decided to transform her crushes, revelations, heartbreaks, and humiliations into an epic four-book graphic memoir.
This series, sponsored by Wild Turkey, will profile the #Nevertamed people of the world: artists, adventurers, and entrepreneurs with an unrelenting passion for and commitment to what they do who never cut corners or sacrifice quality or vision. It's this #Nevertamed spirit — fueled by tradition — that goes into every barrel of Wild Turkey.
Growing up in California, Schrag loved comic strips like Calvin & Hobbes and For Better or Worse, as well as sophisticated fare like R. Crumb and Maus, Art Spiegelman's Pulitzer Prize–winning graphic novel about the Holocaust.

But the zine Deep Girl, by Ariel Bordeaux, was what really pushed her over the edge into wanting to make her own comic. "[Deep Girl] included raunchy stuff that as a 14-year-old I was interested in," Schrag says. "And it occurred to me that I could write a comic about my life. It made a difference seeing something made by a woman who I related to more."

When Schrag entered Berkeley High, a huge public school in its namesake town, she found she had a ton of material to work with. "I was really excited about life and trying all these new things," she says. "I was getting into music, dating people for the first time, I was really into school. The original impetus to write the comic was, 'Oh my god, I had the greatest year in my life, I need to tell everyone about it.'"

She worked all summer after freshman year to distill and dramatize her notes and journal entries into the drawings and stories that became her first memoir, Awkward. It wasn't easy. "I had the goal of writing a compelling story," she says. "But my diaries, all these scrawls of 'why doesn't she like me?' — they're just not interesting. I wanted the comic to be engaging, like the books I love."
Schrag struck the right balance. With a loose-limbed, exuberant artistic style set off by somber, inky swaths of black, and alternately giddy and OMG-kill-me-now dialogue, Awkward portrays ninth grade as a vertiginous time of high highs and low lows. She self-published the comic and sold it at the start of her sophomore year. And — for a while at least — she became a minor celebrity. "People were so into it," she says. "It felt really cool that people knew who I was."
As anyone who's ever achieved any level of notoriety knows, though, fame can be a double-edged sword. "I was never out to trash people," Schrag says. "But it definitely did cause some drama with some of the people whose private lives I exposed." In addition, after her first flush of loving high school and its possibilities, her life became complicated in ways that are familiar to many kids. "I broke up with this girl and my parents got divorced," she says. "The comic was a way for me to process those things."
Schrag also experienced the hall-of-mirrors sensation familiar to any artist who mines his or her life for material. "As the books progressed, my self-consciousness about them intensified," she says. "By my senior year, my dominant thought was, 'How is this going to look in the comic?' I was very shut off from my emotions, because I was always living in the future of writing the comics."
Working on the books also kept her "mired in the drama" of some painful relationships. "It did keep those feelings and my obsessions with certain people fresh in my mind," Schrag says. "My book Potential, about my junior year, was heavily about my first girlfriend — and then I spent all of my senior year completely obsessed with her. Maybe I wouldn't have been as obsessed if I wasn't spending every hour working on this comic about her."

After graduating from high school, Schrag went to college, and issues of the comic about her senior year began to appear in print, produced (as were her earlier books, from 1997–2000) by Slave Labor Graphics, an indie comics publisher based out of San Jose, California.
But the pace slowed, for a variety of reasons: In the early 2000s, graphic novels being released issue by issue was a practice that was falling out of fashion, and Schrag had become "extremely obsessive" about the art of what would become Likewise, a 370-page doorstopper. "It was a difficult thing to keep pace to," she says. "And I wasn't making any money. I thought, 'Maybe if I get enough pages I'll be able to sell this to a big publisher.'"

The emotional content was by far the most fraught, as well. Though Schrag had set herself a long timeline for finishing the project — age 30 — that didn't lessen the pain of the material. She says, "The one girlfriend whose life I was really writing about, I showed her a version [of Likewise] before I published it so that she could veto anything. And she was understandably really upset about a lot of parts. It was really difficult to know that I was causing her pain — not even just by revealing stuff, but by dredging up stuff from the past. It was drawn in such a way as I'm the victim and she's the perpetrator of my pain."
The two were able to work through their differences, though, and remain close to this day. In the years since she completed her magnum opus (which was eventually republished in full by Simon & Schuster, in 2008 and 2009), the real challenge for Schrag has been something that every adult, creatively minded or no, must contend with: paying the rent.
When she was younger, Schrag says she believed that she might be able to just work as a biology teacher and "do comics on the side." "I naively thought there would be enough time for that, and that's just not the way [being a teacher] works," she says. "You don't just kind of show up in class, talk about biology, and leave."
But once it became clear she could support herself as a professional writer — as exemplified by her work on TV series like Showtime's The L Word and HBO's How to Make It in America, as well as her debut novel Adam, published in 2014 by Houghton Mifflin Harcourt — a new set of challenges presented themselves. Mainly this was the need, as Schrag says, "to balance writing as a way to make a living with writing for oneself, for the sake of art."
And yet, just like she did during high school, Schrag continues to alchemize her challenges into personal achievements. "Writing is the most fun thing in the world," she says. "I learn so much that I don't expect. Writing on TV has improved my writing and it's all skill-building, so it's really positive."
Hunter Slaton is the content director for Studio@Gawker.
This post is a sponsored collaboration between Wild Turkey and Studio@Gawker.