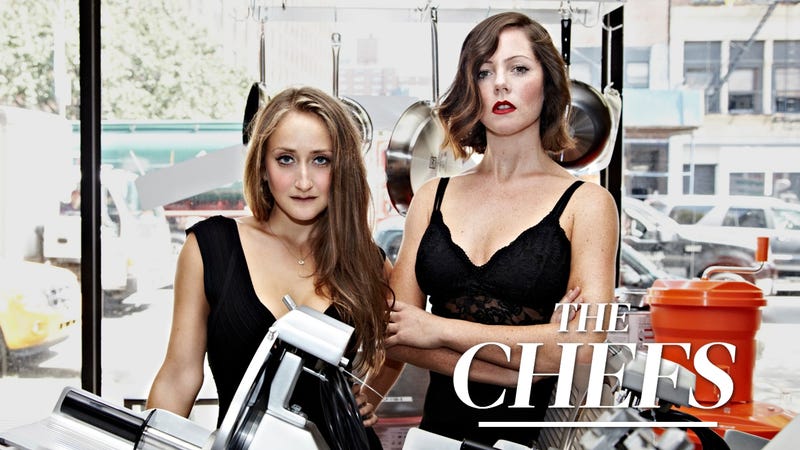 They say you should never do business with friends. Sometimes it's best to ignore what "they" say. When Lauren Gerrie and Flannery Klette-Kolton met shortly after college, it was immediately obvious that they clicked. What they couldn't have known at the time is how enduring this friendship would be — or that it would end up leading them to found a business, not to mention strut their culinary stuff on Chopped. (They both won.)
Now, nine years later, their friendship is still going as strong as their careers are — together, they're the founders of bigLITTLE Get Together, a private chef service known for private dining events that combine unique, unexpected atmospherics with menus that are as impeccably curated as they are adventurous.

This series, sponsored by Wild Turkey, will profile the #Nevertamed people of the world: artists, adventurers, and entrepreneurs with an unrelenting passion for and commitment to what they do who never cut corners or sacrifice quality or vision. It's this #Nevertamed spirit — fueled by tradition — that goes into every barrel of Wild Turkey.
The morning I meet up with them, Gerrie and Klette-Kolton have already been up for hours, scouting the local farmer's market in search of ingredients for an event they'll be throwing tonight. (The corn shoots looked beautiful but had a vaguely wheat-grassy aftertaste. They didn't make the cut.) Now the two are taking a coffee break at Ninth Street Espresso in Manhattan's East Village. In addition to being their regular haunt, it also happens to be the place they met.

At the time, they had no plans to start a business, together or otherwise. Klette-Kolton had just graduated NYU and was prepping to move to the west coast to study alternative medicine, while Gerrie was keeping herself afloat as a cocktail waitress. But they hit it off, and they both knew they could cook. Soon, a Great Gatsby-themed soiree put a halt to whatever plans the two had going.
"A mutual friend was having a blowout birthday party on her mom's roof in the Gramercy area and everyone was there in era-appropriate attire and we cooked all the food," says Klette-Kolton, explaining how she and Gerrie set off on their semi-accidental journey to private chefdom.

"After a lot of wine that night people were telling us how awesome everything was and how we should do more of it," Gerrie says. "We were just like 'we should!' We came up with the name [bigLITTLE] that night after all the wine. Really, after that I'd say we started the company because Flannery filed the LLC."
From that point on, there was no turning back. Every time Klette-Kolton thought about heading west, her mind would drift back to creating meals with her best friend. "Now we're right here 9 years later," she says. "It's crazy!"
Though they started their business flying by the seat of their pants, their success didn't happen overnight, or without some serious hustle. "When we first started, we were really really young," says Gerrie. "We had no idea what we were getting into. Every single process was a learning experience." The two worked in kitchens and front of house of restaurants during the day while networking to drum up catering gigs for their off hours. "Initially the biggest challenge was creating, building, and fostering a client list," Gerrie says. "We were taking any jobs we could get and were convincing our clients — and ourselves — that we could do it."
Klette-Kolton and Gerrie quickly learned just how much time time and energy goes into catering large-scale events and dinner parties. "The first big events we did, we both didn't sleep for days," Gerrie remembers. At the outset, their clients tend usually for parents or friends, and were often serving crowds much bigger than they would have preferred. They were learning how to do everything from menu planning to ordering and transporting ingredients, and had to constantly adapt to different cooking spaces and equipment.
"You have to do the grunt work," Gerrie says. "And thank god we did because now we take on jobs that are really daunting and it's not scary for us," Gerrie adds. "It's just like, oh yeah we can do that."
"Now we can know exactly what a party is going to look like," Klette-Kolton adds. While the results always looked polished, the behind-the-scenes work wasn't exactly glamorous.
One of the more memorable jobs they took on when they were starting out was catering a weekend in the Catskills for a client and 35 friends. "We basically worked from 4am to 11pm everyday," Gerrie says.
The menu included a cedar plank salmon, a dish they'd made before — only not on a gas stove. "All of a sudden, the cedar caught fire, and there were flames coming out of the stove," recalls Gerrie. "We were just throwing water into the gas stove trying to put it out!" They ended up saving the salmon and the house, and acted as though they the cedar aroma wafting through the house had been part of their plan all along.
While food is their first love, Gerrie and Klette-Kolton haven't ruled out the possibility of making their way back onto TV, but they're not going to settle for any opportunity that doesn't seem perfect. After their winning bouts on Chopped, the duo was approached by more than one production company about the possibility of starring together in their own show. So far, they've always said no, reasoning that producers searching for drama mostly seemed interested in depicting the kind of backstage disaster that — as party maestros — the pair is eager to avoid entirely. "They all want to see things go wrong," says Klette-Kolton. "But we don't want things to go wrong. We know what we're doing."

Instead, they've decided that if they re-enter the TV game, it's going to be on their own terms: They've produced a pilot, and if the show they've envisioned goes ahead, each episode's will revolve around a single party that they'll throw in collaboration with various other talented people, whether from culinary world or the worlds of fashion, or music.

They also emphasize that, as women in the notoriously male-dominated culinary industry, they're not willing to compromise or tamp down their personalities in order to make viewers or food world insiders more comfortable. "We're women. We're sexy women and we eat everything, and we're not afraid to show any of that. We have great senses of humor and know how to have a good time and I don't think that anyone exactly like is is out there [on the food-TV landscape] right now," says Klette-Kolton.

It's also important to them that whatever anything they put on the screen will be entertaining without glossing over the realities of their business, or the care, thought, and work that goes into it."Everything isn't easy like 'wam bam thank you ma'am'," Gerrie says. "Things take time."
This may be especially true for the pair because they learned early on that they didn't want to advance up the ladder in the traditional way — by toiling away in restaurants. Instead, they were eager to do things their way, and wanted the freedom that cooking for people in their homes and in party settings now allows them.

This freedom means that they alone dictate the aesthetic that their events should have, and for both women, the word that keeps coming up is "sensual."
"I think eating and food in general is a sensory experience," Gerrie says. "You're seeing something and smelling it and touch it and even hearing it."
This doesn't just apply to the food itself. "Even the sound of the silverware — all of it is very integrated," says Klette-Kolton. "Eating can be nostalgic and emotional for people and we've embraced that in our food and think about all of those elements when we're creating dishes. The big picture is about the details."
This unrelenting focus on the details, as well as a refusal to compromise on their vision, that has made Gerrie and Klette-Kolton's parties, and their food, more and more in demand. As their friendship, as well as their business, enters its second decade of success, they know that to keep things progressing at pace, they'll have to keep working, keep focusing on the things that matter, and stay #Nevertamed. Based on what they've already accomplished, and on the bond that they share, it doesn't look like it will be a problem.
Luke McCormick is a writer living in Brooklyn. He has written for SPIN, rollingstone.com and other publications.
This post is a sponsored collaboration between Wild Turkey and Studio@Gawker.
Splash photograph by @matthuplacek, #matthuplacek, www.matthuplacek.com